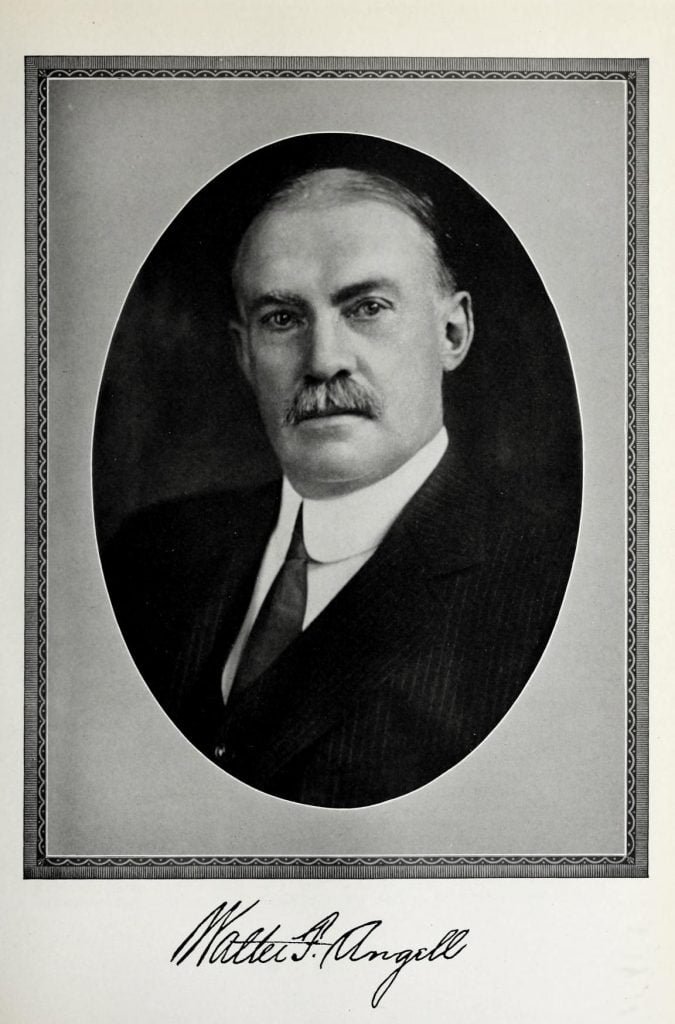 Directly descended from Thomas Angell, one of the first five settlers of Providence, who located here in 1636, Walter Foster Angell has practiced law in this city since 1883 and is considered one of the leaders of the New England bar.
He was born in Eminence, Illinois, December 17, 1858, a son of George Manton and Abby Owen (Evans) Angell. Following his preliminary education he entered Brown University and was graduated from that institution, with the degree of Bachelor of Arts and the honor of membership in the Phi Beta Kappa Fraternity in 1880. He was admitted to the Rhode Island bar in 1883 and began practice in Providence in the office of Charles S. Bradley and Edwin Metcalf. In 1893 he joined the late Stephen O. Edwards in the formation of the firm of Edwards & Angell, with which firm he is still associated. He served in 1886 and 1887 as assistant attorney-general and in 1902-07 as general counsel of the Rhode Island Company. He is a member of the American Bar Association and of the Rhode Island Bar Association and belongs to the Providence Bar Club, the Rhode Island Historical Association, and the Beta Theta Pi college fraternity. His clubs include the University, Providence, Art, and Wannamoisett Country.
Walter Foster Angell married Annie P. Studley, daughter of Theodore E. Studley of New York, June 30, 1888. She died June 29, 1912.
Source: Carroll, Charles. Rhode Island: Three Centuries of Democracy, vol 3 of 4. New York: Lewis historical Pub. Co., 1932.