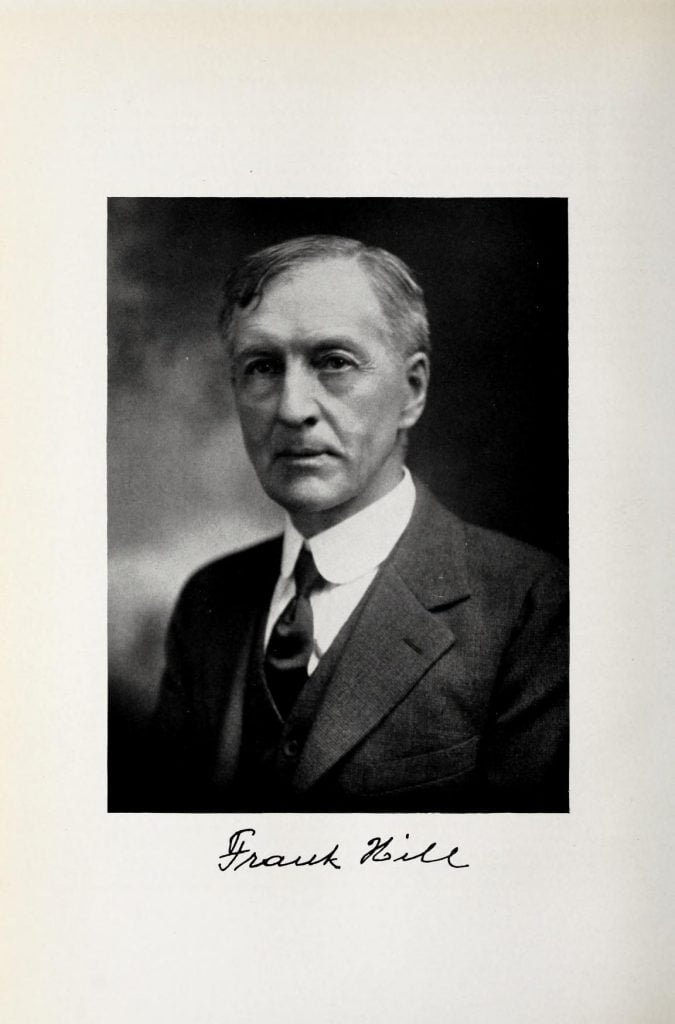 After having taught school for several years following his graduation from college, Mr. Hill became associated with the Ashaway National Bank, Ashaway, Washington County, and ever since then has held the responsible position of cashier. He is widely known in financial circles throughout Rhode Island and New England and is regarded as one of the leading citizens of his town. His early connection with educational work led him to continue his interest in the cause of education and for many years he has been prominently active in educational work in Rhode Island, being now chairman of the Rhode Island State Board of Education.
Frank Hill was born at Ithaca, New York, June 28, 1861, a son of Frank and Mary (Green) Hill. Both his parents were natives of New York State and his father was for many years agent of the Delaware, Lackawanna & Western Railroad at Ithaca. Mr. Hill received his education in the public schools of Alfred, New York, and then attended Alfred University, from which he was graduated with the degree of Bachelor of Arts in 1883, and from which he also received the degree of Master of Arts in 1885. Immediately after leaving college he taught school for one year in Nebraska, after which he became connected with the public schools in Ashaway, Rhode Island. After three years of teaching in this town, he resigned and became connected with the Ashaway National Bank, of which he was elected cashier, on July 1, 1885. During 1893-98 he was a member of the Rhode Island State Legislature. For thirty-two years he has served on the Board of Education, of which he has been chairman for a number of years. He is now chairman of the State Board of Education. He also served as chairman of the Board Commission to build the new school at Ashaway. His religious affiliation is with the Seventh Day Baptist Church, while in politics he is a supporter of the Republican party.
Mr. Hill married, on October 6, 1885, Emma Green, a native of Alfred, New York, and a daughter of Maxson and Hilda (LeTuir) Green. Mr. and Mrs. Hill are the parents of four children.
Eveline, who married Earl J. Robinson.
Mary, who married Julian T. Crandall.
Frank M., who married Anna Wallace.
Helen Louise, a teacher of history at the Rhode Island College of Education.
Source: Carroll, Charles. Rhode Island: Three Centuries of Democracy, vol 3 of 4. New York: Lewis historical Pub. Co., 1932.