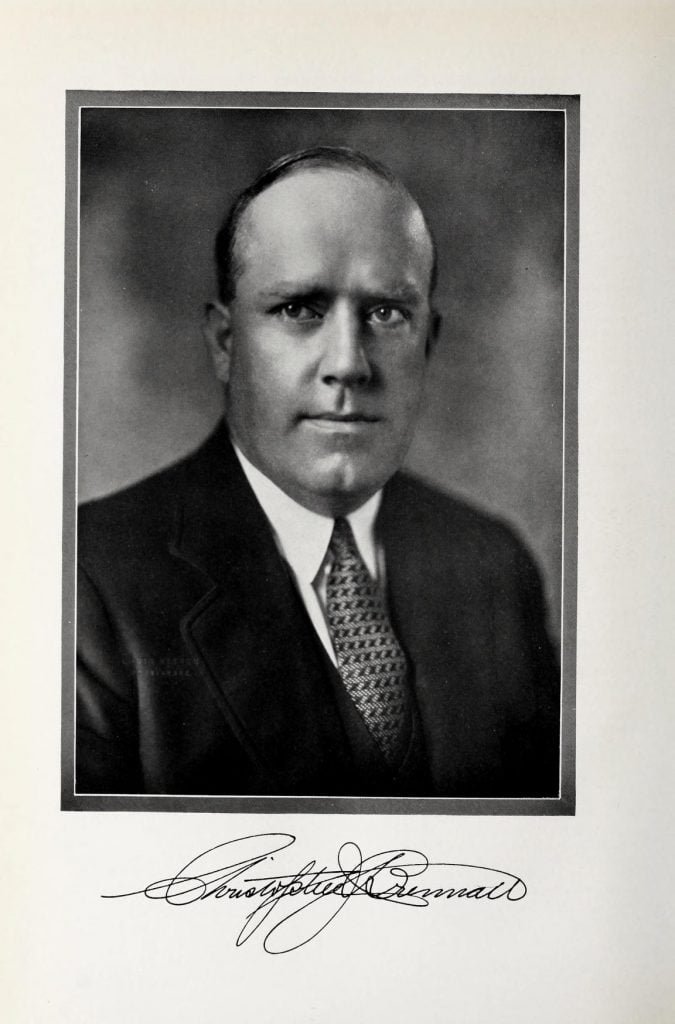 A native of Providence, Mr. Brennan was born September 5, 1893, the son of Christopher P. and Mary E. (Flynn) Brennan, both of whom were born in Providence. The father, who still resides in Providence, spent his life in the city in the trade of a master plumber. The subject of this sketch received his elementary education in the Providence public schools and attended the Classical High School. At Holy Cross College he received his Bachelor of Arts degree with the class of 1915, and went from thence to the Harvard School of Law, but the entry of the United States in the World War interrupted his studies. In May, 1918, Mr. Brennan enlisted in the 112th Machine Gun Battalion, 29th Division, United States Army, and at once was sent overseas. With the American Expeditionary Forces in France he served one year, seeing action in the defense sector of Central Alsace, and at the battles of the Meuse and the Argonne. He received his honorable discharge in June, 1919, with the rank of sergeant-major.
Returning to America, Mr. Brennan was accorded his Bachelor of Laws degree by Harvard and that same year passed his examinations admitting him to practice before the Rhode Island State bar. He opened at once the offices where he has since built up an individual practice, No. 333 Grosvenor Building. Mr. Brennan is a member of the Rhode Island State Bar Association. He is active in affairs of the Democratic party and received preferment from the hands of Governor William S. Flynn in the form of appointment as his executive secretary. Mr. Brennan is a member of Tyler Council, Knights of Columbus, in which he has attained the fourth degree and which he has served as Grand Knight. A parishioner of St. Pius Roman Catholic Church, Mr. Brennan belongs to the Catholic Club. He is also a member of the Veterans of Foreign Wars and is affiliated with the Metacomet Golf Club. Golf and automobiling comprise his outdoor recreations while his books present his favorite form of indoor diversion.
Mr. Brennan married, in 1924, Margaret V. Dempsey, a native of Providence.
Source: Carroll, Charles. Rhode Island: Three Centuries of Democracy, vol 3 of 4. New York: Lewis historical Pub. Co., 1932.